12816 Brickyard Road, Kansas City, MO 64138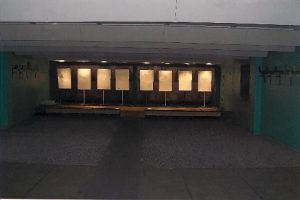 The Brickyard facility is an indoor facility for use with pistols of no more than moderate power and .22 rimfire rifles. Centerfire pistols firing a cartridge of no more than 450 ft-lbs. muzzle energy are permitted (click for chart). The club Executive Board meeting room is at Brickyard Block House. Brickyard is lighted, heated, and available 24 hours per day.
Scheduled activities have range priority, otherwise:
Mondays: 5:00-10:00 Bullseye Pistol from October to end of March.
Tuesdays: 5:00-10:00 USPSA year round.
Wednesdays: 5:00-10:00 NRA Action every other Wednesdays alternating with PPC on the other Wednesdays year round.
Thursdays: 5:00-10:00 Youth Marksmanship Program year round except on the second Thursday of the month.
Fridays: 5:00-10:00 .22 Games from November to end of March.
Other events may be added, or changes to the schedule made, by the Executive Board as needed. They will be announced well in advance so check your calendar for them.
Driving Directions:
From US 350 Highway at Noland Rd., go south approximately one block to Brickyard Rd. Where the road makes a "Y," stay to the right on Brickyard Rd. for approximately one block. The road will make a right turn. The Pioneer entrance is immediately on your right.